Embarking on a family vacation is an extraordinary opportunity to create lifelong memories and bond with your loved ones. Picture the excitement on your children's faces as they discover new places, experience different cultures, and immerse themselves in the wonders of the world.   Let's delve into the enchanting world of traveling with children and we'll provide you with tips, tricks, and insights to help make your family adventures smooth, enjoyable, and truly magical.
So, fasten your seatbelts and get ready for an unforgettable journey filled with laughter, discovery, and cherished moments that will last a lifetime!
1. PLAN AHEAD
Starting with a Living With The Magic Vacations travel advisor is a great way to be prepared and we all know preparation is key when traveling with children. When recommending the perfect destination, we consider family-friendly activities, attractions, and amenities. We'll also discuss other important aspects of your trip, such as transportation and accommodation, and ensure they are suitable for your little ones.
2. PACK WISELY
When it comes to packing for your family getaway, efficiency is essential. Pack essentials like medication, extra clothes, snacks, and entertainment (books, games, tablets) to keep your children comfortable and occupied during the journey. Don't forget to bring comfort items that help your child feel at ease, like a favorite stuffed animal or a cozy blanket. We'll even send you packing lists prior to your trip!
3. STICK TO A ROUTINE
While traveling, it's helpful to maintain some semblance of a routine to ensure your children stay well-rested and happy. Try to stick to regular meal times and bedtime routines as much as possible. This will provide a familiar structure and help minimize any disruptions to your child's daily routines.
4. BE FLEXIBLE
Traveling with children requires flexibility, as unexpected situations may arise. Embrace the spontaneity and go with the flow. Allow for extra time, be patient, and adjust your plans accordingly. Remember, traveling with kids can result in delightful surprises and unforgettable moments.
5. INVOLVE THE KIDS
Make your children feel included and engaged in the travel experience. Encourage them to help with planning activities or choosing restaurants. Let them have a say in what they would like to do or see. This will empower them and make them feel excited and invested in the family adventure.
• • 1 • •
DISNEY CRUISE LINE
The Disney Cruise is the epitome of a perfect family vacation.
It offers a unique and enchanting experience that is sure to create lasting memories for every member of the family. With world-class entertainment, family-friendly activities, and outstanding service, there is something for everyone to enjoy. Whether it's meeting beloved Disney characters, exploring exotic destinations, or indulging in delectable dining options, the Disney Cruise caters to the young and the young at heart. From the moment you step on board, you'll be immersed in a world of magic, where the joy and excitement of Disney come to life. It's a vacation that brings families together and leaves them with a lifetime of cherished moments.
• • 2 • •
BEACHES RESORTS
Beaches Turks and Caicos is the ultimate destination
for a perfect family vacation.
Nestled on the breathtaking shores of a tropical paradise, this all-inclusive resort offers endless fun and relaxation for everyone in the family. With a wide range of activities and amenities designed specifically with families in mind, there is something to captivate every age group. From the thrilling water park with winding slides and wave pools to the dedicated kids' clubs and teen lounges, children of all ages can enjoy a world of excitement and adventure. Meanwhile, parents can unwind at the luxurious spa, lounge by the pool, or indulge in exquisite dining experiences. With pristine beaches, crystal-clear waters, and a warm and welcoming staff, Beaches Turks and Caicos is an oasis where families can create treasured memories and experience the perfect blend of relaxation and togetherness.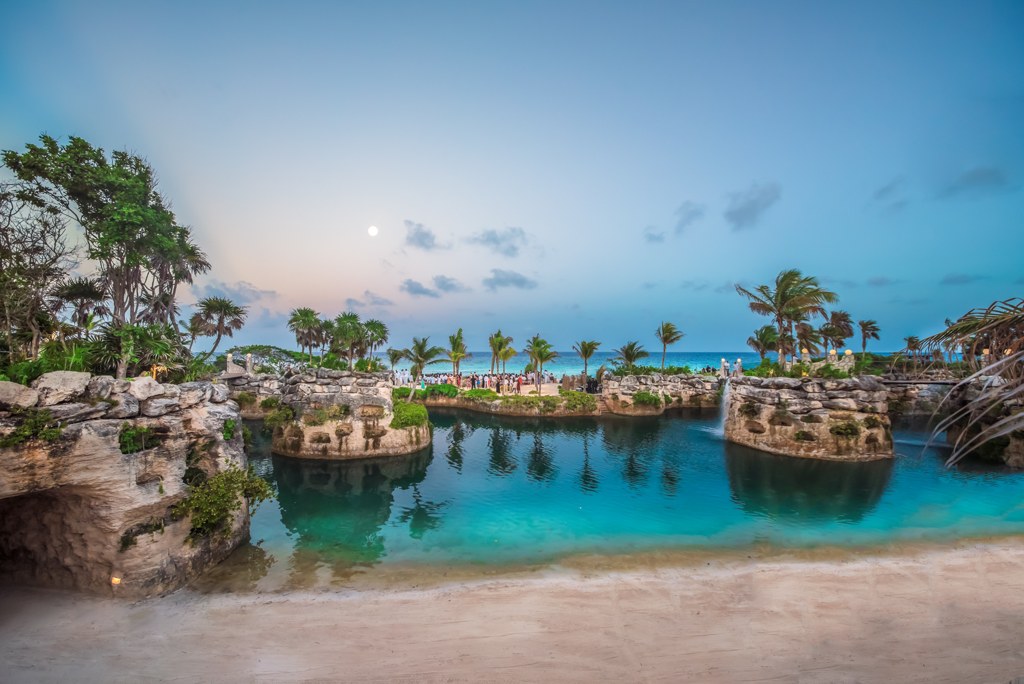 Hotel Xcaret is an ideal destination for a perfect family vacation in the heart of the Riviera Maya.
This extraordinary resort offers a unique blend of luxury, nature, and cultural experiences. Families can immerse themselves in the beauty of the surrounding natural landscapes, including stunning beaches, lush jungles, and captivating cenotes. The resort's All-Fun Inclusive concept ensures guests have unlimited access to a variety of thrilling activities and attractions such as eco-parks, archaeological sites, and water sports. Kids will delight in the adventure-based children's clubs, pools, and dedicated entertainment programs while parents can relax at the spa, enjoy fine dining, or simply bask in the resort's serene ambiance. With its ecological approach, authentic Mexican charm, and endless opportunities for family fun, Hotel Xcaret promises a vacation experience that will create lifelong memories for all family members.
Casa De Campo offers an escape to paradise for the entire family.
Situated in the stunning Dominican Republic, this luxurious resort provides an array of activities and amenities that cater to every member of the family. From the world-class golf courses and private beaches to the equestrian center and tennis courts, there is something for everyone to enjoy. Children can partake in supervised activities and games at the Kids Club, while parents indulge in relaxation at the beachfront spa or rejuvenating yoga classes. Families can come together to explore the vibrant culture and history of the island, embark on thrilling excursions, or simply soak up the tropical beauty by the pool. With its impeccable service, breathtaking surroundings, and endless possibilities for adventure and relaxation, Casa De Campo offers an unforgettable family vacation that will leave a lasting impression.
• • 5 • •
HYATT ZIVA CAP CANA
Hyatt Ziva Cap Cana is a true tropical paradise.
This all-inclusive resort is ultimate destination for a perfect family vacation in the stunning Cap Cana region of the Dominican Republic. With its pristine beaches, crystal-clear waters, and luxurious amenities, it offers a haven of relaxation and fun for the whole family. Children can enjoy supervised activities and games at the KidZ Club, while parents indulge in spa treatments or take part in water sports and fitness classes. The resort's multiple pools, including a water park with exhilarating slides, provide endless entertainment for all ages. Gourmet dining options cater to even the most discerning palates, ensuring that every family member is satisfied. With its warm and welcoming staff, breathtaking setting, and exceptional service, Hyatt Ziva Cap Cana promises an unforgettable family vacation filled with joy, laughter, and cherished memories.
BONUS! Do you need some to unwind AFTER your family vacation?
DON'T WORRY. WE'VE GOT YOU COVERED.
Girls Getaway Weekends
Time with girlfriends is proven to release happy hormones and decrease stress. A happier, healthier you is just a plane ride away! We have two amazing Girls Weekends available to book right now!
August 7-11, 2024
Virgin Voyages
Valiant Lady 
Join us aboard the brand new Valiant Lady as we set sail Key West and Virgin Voyages private club, Beach Club at Bimini! The name of the game for this year's Girls Getaway Weekend (our 9th!!) is fun, sophistication, and relaxation!
Virgin Voyages sets itself apart from traditional cruises with an adult-only experience not to be missed! From elevated dining experiences to world-class entertainment, gourmet dining (did we mention no buffets?), and amazing destinations, this Girl's Getaway Weekend will be one for the books!!